How to start using the app
More questions? Check out our FAQs below.
Visit the Apple App or Google Play Store by clicking the icons below and download the app on your device. 
Log in with your Marriage365 username and password and make your marriage incredible!
Here are just a few of the many perks of the app!
Regularly check in with yourself and see the progress you've made. How are you feeling in various areas? What's working well and what areas could use some improvement?
The Marriage365 Checkup is a great way to assess where you are, what you need to work on, and how far you've come.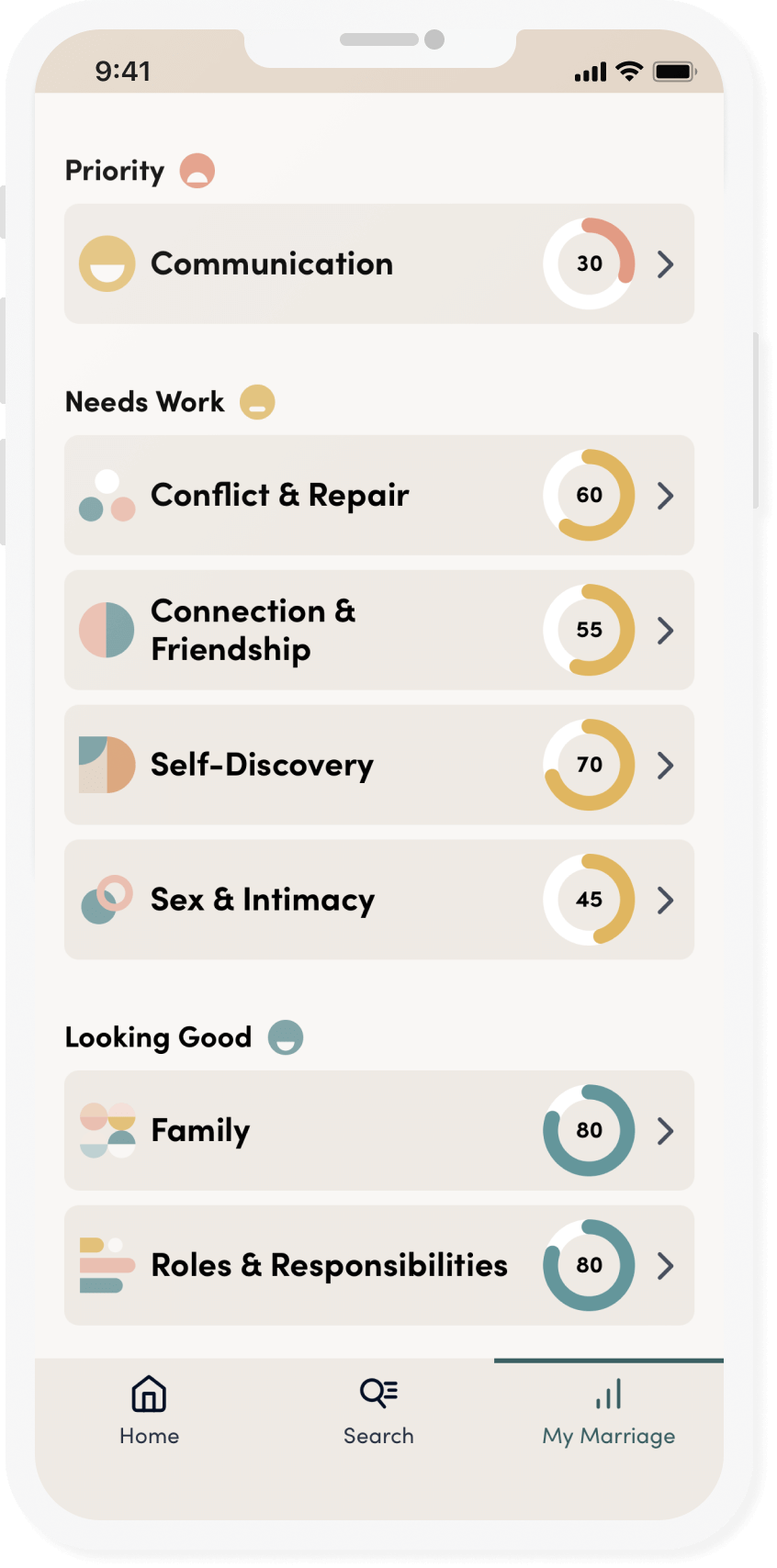 Notifications & reminders
Based on your checkups and areas of interest, we'll suggest resources that will be helpful for you. We'll also let you know about new and trending content, send you daily reminders if you're completing a challenge, and more. (These are customizable based on what you want to hear from us.)
New & improved search function
Is there an area you're interested in learning more about or working on in your marriage? Our search functionality makes it easier than ever to find the content you're looking for, quickly and easily! 
Simply enter a topic into the app search bar and all related videos, courses, challenges, and worksheets will instantly show up. 
Membership includes two profiles so you and your spouse can each have your own watchlists and work at your own pace
All videos include audio-only options, perfect for listening in the car, doing housework, working out, or otherwise multi-tasking
Includes fun date ideas and conversation topics to spark more connection and romance
Shorter videos are perfect for on-the-go, busy couples
Push notifications remind you when it's time to invest in your marriage
Track your progress and growth using our Marriage365 Checkup
No topic is off limits — we cover it all
Add your own profile picture!
Watch history keeps track of videos you've already viewed 
Frequently
asked questions