Getting started with Membership is
easy

and will change your marriage.
Start your membership today! 
Marriage is
hard.

We've got solutions. Join Marriage365 today!
Start your membership today!
A Healthy Marriage is Worth It
You're only a few steps away from the best resource out there for marriages that need affordable and practical tools that bring real change. 
We believe that every couple deserves access to affordable marriage resources that work!  
After entering your email address, you will be given the option to choose between a monthly and yearly subscription. Both plans give you access to the same resources and include two private accounts for you and your spouse. 
Enter your email to get started!
Take the Marriage365 Checkup
Once you complete your registration, you'll be asked to do a 30-second self-assessment on how you 'show up' in your marriage. You have the option to take a more in-depth assessment if you would like to, but it's not critical for jumping into Membership. 
Work on what matters to you
Your checkup results will arrange our categories of resources in the order that matters most to you. Each of these categories contains videos, courses and worksheets that get to the issues impacting your marriage.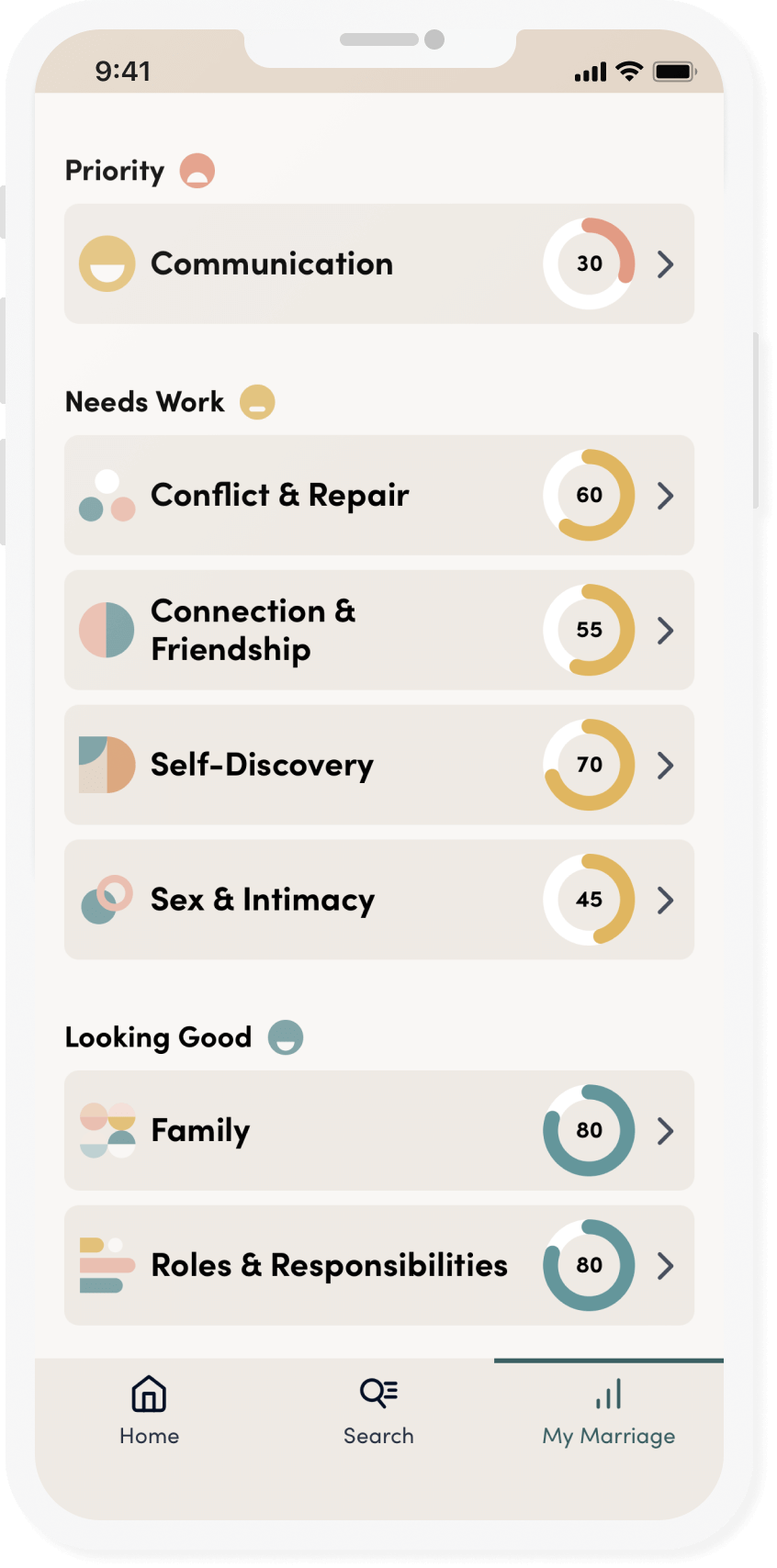 The best way to use Marriage365 Membership is in our free iPhone or Android app.
The app will remind you to log in, tracks your progress, and suggests content. It also includes our popular audio only feature that makes it easy to engage with content while on the go (or working around the house!).
Getting started is easy...
Marriage365 is an online membership you can access from any device, giving you instant access to a growing library of videos, courses, challenges, and downloadable resources that will help you rise above the average and create lasting change in your marriage.
Take our Marriage365 Checkup
Let us get to know you better. What's working well and what areas could use some improvement in your marriage? 
We'll suggest resources based on your needs
We'll guide you to the best videos, courses and challenges so you know exactly what steps you need to take. But feel free to take a self-guided tour at any time as well! 
Make your marriage awesome!
Now it's up to you to get started! Anytime, anywhere, on your own or with your spouse. Even just a few minutes a day will give you practical tools to help your marriage! 
Frequently
asked questions
Want to know the top 3 reasons people join Marriage365 Membership?
Enter your email to get started!
Still wondering what Marriage365 Membership is all about? Learn more here!
"After years of therapy and seeing little results, your membership was a breath of fresh air to my soul."
"I'm a long time follower and member and can honestly say that Marriage365 is the most practical and helpful marriage resource available. I'm obsessed."
"Casey & Meygan - you guys are authentic, funny and so helpful. Not sure if we could've made it this far without your help!"